Dying Light - Season Pass (DLC)
Platform
Steam
Languages
Multilanguage
Regions
Worldwide
Developer
Techland
OS
Windows, Mac, Linux
Dying Light Season Pass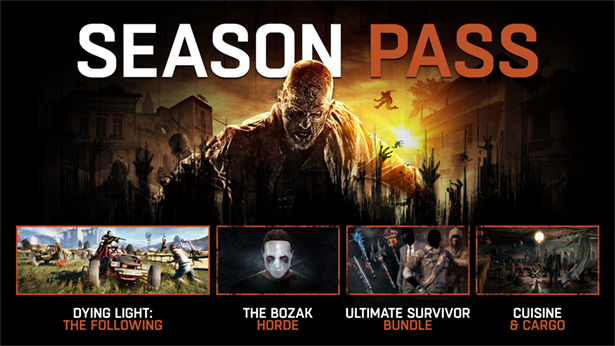 About the Game
Dive in for more thrills!

DYING LIGHT SEASON PASS INCLUDES:

Experience the untold chapter of Kyle Crane's story set in a vast region outside the city of Harran. Leave the urban area behind and explore a dangerous countryside packed with mysterious characters, deadly new weapons, and unexpected quests. Gain the trust of the locals and infiltrate a centuries-old cult that hides a dangerous secret. Take the wheel of a fully customizable dirt buggy, smear your tires with zombie blood, and experience Dying Light's creative brutality in high gear.

It's time for you to go on the offensive! Enter the Stadium, the most famous landmark in Harran, and delve straight into the carnage. Go alone or join forces with other survivors to test your combat know-how against relentless hordes of the Infected. Unlock new skills and become the champion of Harran's stadium.

Suit up your survivor with the best gear and weapons in Harran by turning him into the Ninja, the Secret Agent, or the Urban Explorer. Craft four extremely powerful tools of destruction and bring fighting the Infected to a completely new level. Grab all these bonus in-game items in one go.

Dying for more action? Take up the challenge of two hardcore Quarantine Zones. Employ a mix of stealth and combat to ransack and investigate ominous, Infected-filled corridors of the once most famous restaurant in Harran and an abandoned rail yard. Great spoils are believed to be abound in these places, but no one who ever walked in made it out alive to tell the story. Want to be the first?